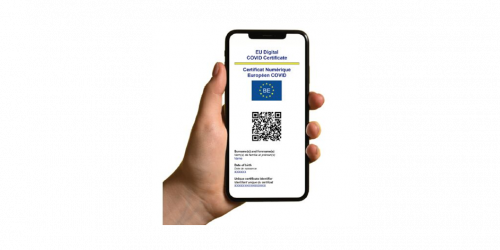 EU Covid certificate / Health pass
Dear customer,
You will arrive soon in Domaine de Longemer, and we are looking forward to welcoming you.
The new sanitary measures require us to systematically control the health pass / The EU COVID certificate from now, at your arrival.
Consequently, upon your registration at the reception, we ask you to present us your valid EU covid certificate.
This one will be asked only once, upon your arrival and it concerns people over 17 years old. Without this certificate, you will not be allowed to enter in the campsite.
So, each person of 17 years old and more must present the EU COVID certificate, issued free of charge by national authorities in digital or paper form, authenticated by a QR code:
either your vaccination,
or that you are not a carrier of COVID-19 thanks to negative results of a PCR or antigen test,
or that you have recently recovered from the disease thanks for example to a positive test of more than 15 days and less than 6 months.


For your health and security, and that of other customers, we ask you to respect the health protocol in the campsite.

We rely on your understanding and wish that you have a nice stay in Domaine de Longemer.

We inform you that, following government decisions, the cancellation of the stay by you, for non-presentation of the health pass, does not constitute a valid reason for reimbursement.

The Management Team